As with many aspects of music, singing and playing guitar at the same time takes practice. Singing and playing guitar can be tricky for a beginner but it is not impossible. A sense of good timing, rhythm and ability to combine two actions at once will come with practice and dedication.
Marty Schwartz GJ Acoustic Blues 5 DVD Set + 10 Jamtracks just Click Here
How to Sing and Play Guitar at the Same Time

You must have the ability to play rhythms accurately. This includes having a consistent approach to strumming, usually with your right hand constantly moving down and up regardless of when you strike the strings.
So how do you develop this skill?
It's all about AUTOMATION. Remember how hard it was changing gears when you learned to drive?
If you are still looking at your chord changes or strumming hand, you are probably not ready.
When learning a song, play it to the point that you can have a light conversation with someone else and still keep the rhythm. You have to train your brain not to think about the guitar chords you are playing.
PICK AN EASY SONG FIRST and Learn songs that were meant to be sung and played at the same time, such as singer-songwriter songs or praise songs. Praise songs are particularly good for this exercise because they are meant to be simple so the masses can sing them.
Simple chords, simple melodies and very memorable. Write out the lyrics and study them. Listen to the song 10 times in a row, and really focus on it. Try to ABSORB it. For some reason headphones seem to work best for focused listening. playing along and singing with the original recording will help you with timing.
Know the song you are playing.
Slow the song down and know the syllables when the chords change. Not just what word, but which syllable within a word the chords change on. The speed will come once you've got all of the above working correctly.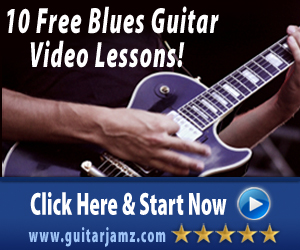 Also check out the Marty Schwartz GJ Acoustic Blues 5 DVD Set + 10 Jamtracks just Click Here
Enjoy and to your Blues Guitar Success.
Disclosure: You should assume that the owner of this website is an affiliate for providers of goods and services mentioned on this website. The owner may be compensated when you purchase after clicking on a link. The owner may also have received the product for free. Perform due diligence before purchasing from this or any other website.